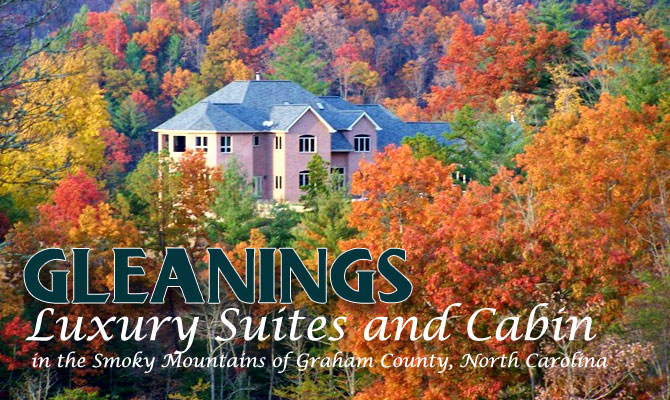 The Gleanings Resort Luxury Suites and Cabin offers a special escape from the normal vacation retreats. The secluded Smoky Mountain location promises privacy in a natural mountain setting only a short distance from the quaint country town of Robbinsville, North Carolina. There are no crowds or busy 4-lanes and the air is crisp and fresh.
The Gleanings Resort is much like a lodge environment, sitting on a ridge in the mountains. Our quality accommodations will satisfy the most discriminating guests and our rates are a real value. 
Private Luxury Suites: All offer desks, full bathrooms, and fully equipped kitchens or kitchenettes, and most have porches. They include satellite television, DVD, wireless internet and ethernet connections. Large gathering rooms are available for group events. Smaller spaces for connecting on a more intimate level. There is also a large cooking and dining facility for groups/families. Ample grounds for long walks and space for time alone.
Luxury Suites: Our three bedroom, three bath Harvest House can be rented by individual bedroom with a shared kitchen, or rent the entire house.
Complete Vacation Home – The Harvest House can be rented as a complete unit.
The grounds are immaculate with many places to enjoy nature. Views from the higher elevations of the main resort will inspire you.
There is also a swimming pool and hot tub available for all guests.
Be aware that the Gleanings Resort is located on mountainous terrain. Most roads are paved, but motorcyclists may have difficulty in accessing portions of the resort. Check with us for details.